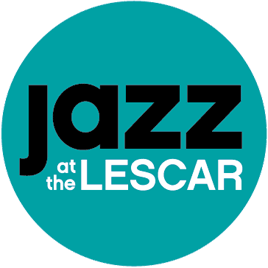 Every Wednesday The Lescar is home to the best weekly jazz night in Sheffield. With a diverse range of music from local, regional and national touring artists who showcase the depth and vibrancy of the UK Jazz scene, it's an all year round jazz festival on your doorstep!
Music starts at 8.45 pm, doors 8.15 pm.
Advance tickets are available for all Jazz at the Lescar gigs from Porter Brook Gallery (Sheffield Music Shop), Hickmott Road, (open 10am - 5pm, Tuesday - Saturday).

Jez Matthews
Email: lescarjazz@gmail.com
Telephone: 0774 020 1939

The Lescar Hotel
Sharrowvale Road
Sheffield
S11 8ZF (map)
www.thelescarhuntersbar.co.uk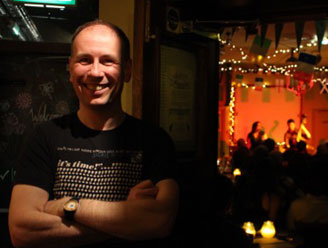 Sheffield Jazz
You can also catch some great jazz at Sheffield Jazz, with two seasons running annually throughout the Spring and Autumn at three venues: Millennium Hall on Ecclesall Road, the Auditorium at Sheffield University Students Union on Western Bank, and the Crucible Theatre Studio.
www.sheffieldjazz.org.uk






24th August 2016
Garry Jackson, with Matthew Bourne and Sam Hobbs

£6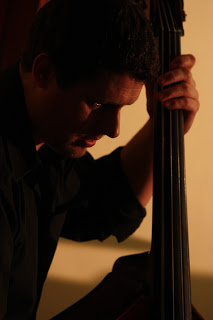 A wonderfully inventive piano trio who blew us all away last year, featuring a swift return for Matthew Bourne, one of the most innovative musicians to have emerged from the UK jazz and improvised music scenes, and a commanding pianist with incredible technique, joined by two huge talents from the Leeds jazz scene: Garry Jackson is a forceful and rhythmic bass player, and Sam Hobbs on drums is a long time associate of Matthew's, notably on a Ninja tunes reworking of Amon Tobim's music. Expect intensity, surprises and beautiful music in equal measure.

"Bourne confronts listeners with the rawness of his music, rather than manipulating them with familiar licks. He improvises with a cyclonic energy and virtuosity, and rummages in a bag of influences gathered from all over the past century's music" The Guardian
31st August 2016
Kristian Borring Quartet

£6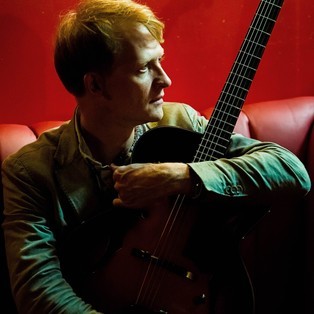 One of the finest musicians on the UK and European jazz scenes, Danish guitarist/composer, Kristian Borring brings his long-standing quartet, playing music from their third album 'Silent Storm' (Jellymould Records). Utterly contemporary music, mixing hard swinging rhythms and grooves, with contemplative melodies and strong yet subtle harmonies.

Arthur Lea (piano), Mick Coady (bass), Will Glaser (drums); collectively they've worked artists including Scottt Hamilton, Mark Murphy, Peter Bernstein, Dave Binney, Ian Shaw, and Julian Joseph.

For more information, please visit Kristian's Website.
7th September 2016
Lauren Kinsella Ensemble

£7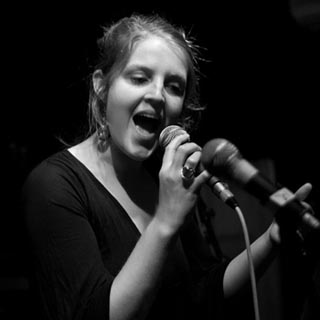 Uniquely original and compelling, Lauren Kinsella recently won UK Vocalist of the Year at the 2016 JazzFM awards. Featuring Tom Challenger (sax), Dan Nicholls (piano), Conor Chaplin (bass), and Simon Roth (drums); all in bands at the forefront of new UK jazz and improvised music, including Snowpoet, Blue Eyed Hawk, Vula Viel, Dinosaur, and the Elliot Galvin Trio.

Mixing jazz with folk, contemporary classical, poetry and free improvisation, we're thankful to the PRS for Music Foundation Women Make Music Award 2016 who've made this gig possible.
14th September 2016
Corrie Dick's Impossible Things band

£8
A very special gig. Glaswegian drummer Corrie Dick has delighted us many times at The Lescar, and brings the nine piece band that made his debut album 'Impossible Things' one of the best UK jazz albums in recent years. With Felix Higginbottom (percussion), Conor Chaplin (bass), Matt Robinson (piano), Joe Webb (organ), Alice Zawadzki (voice), Joe Wright (saxes), George Crowley (saxes), Laura Jurd (trumpet).

Warm emotive music with a big heart, knitting together Scottish folk, jazz, and African rhythms, with wonderfully nuanced vocals and beautiful expansive melodies. An unforgettable night of music. Book early.
21st September 2016
Henrik Jensen 'Followed by Thirteen'

£6
A truly international line-up; four rising stars of the European jazz scene, led by a Danish bass player with a lovely rich tone, Henrik Jensen, and featuring US trumpeter Andre Canniere, Danish pianist Esben Tjalve, and Italian drummer Antonio Fusco.

Contemporary jazz that bursts with creative and expressive energy, their music is also melodic, rhythmic and approachable. Their second album 'Blackwater', is released in September 2016. Hear it at The Lescar first!
28th September 2016
Stuart McCallum

£6
Cinematic Orchestra guitarist Stuart McCallum brings his soulful and highly approachable mix of jazz and ambient electronica. With him are Dutch vocalist Fridolijn Van Poll, who's toured with Kairos 4tet, as well releasing her own internationally acclaimed album, John Ellis on keyboards (The Cinematic Orchestra, Lily Allen, Corinne Bailey Rae, Tom Jones, John Squire, DJ Vadim), and incredible drummer Richard Spaven (Flying Lotus, José James).
5th October 2016
Hansu-Tori: Amidst A Swarm Of Butterflies

£6
Amidst A Swarm Of Butterflies = Being completely surrounded by and at times overwhelmed by your own emotions.

One of the country's finest young creative talents, from the lively Birmingham jazz scene, a subtle and inventive pianist, with an equally fine trio. David Austin Grey (Piano/Keyboard/Synth/Electronics), Nick Jurd (Double Bass/Electric Bass), and Jim Bashford (Drum Kit). Referencing electronica, minimalism, alternative rock and classical music; new music that is both exploratory and fresh, but also approachable and emotive.
12th October 2016
Ellery Eskelin with Matthew Bourne and Chris Sharkey


In association with Apollo Jazz Network, NORVOLJazz, and Arts Council England

£8
From NYC, a unique opportunity to hear a highly individual and creative musician from the cutting edge of the global improvised music scene. Tenor sax player Ellery Eskelin has performed all over the world, a passionate and committed musician, with a wonderful sound. He visits us with two of the UK's foremost groundbreaking musicians, both with international reputations; guitarist Chris Sharkey (TrioVD, Acoustic Ladyland and Bilbao Syndrome) and pianist Matthew Bourne; a unique virtuoso mixing a delicate touch with often fiery improvisation. An intense experience, and a genuine special event for us at The Lescar; world class improvised music. "...Eskelin continues to be the most inventive American tenor player in creative music." (Down Beat) "Eskelin's warm sound and flowing melodic invention may be the first things to catch a listener's attention. He has one of the great tenor sounds..." (The New York City Jazz Record - December 2013)
19th October 2016
Dan Messore's Indigo Kid

£6
Rising star guitarist Dan Messore's music is a delight; rhythmic, with a strong sense of narrative, and an emotional core. Gareth Lockrane (flute) is a brilliant improviser, was nominated as a Rising Star in the prestigious US Downbeat Critics Poll for 2015. Calum Gourlay's bass playing has been heard with Kit Downes, Tommy Smith, The Scottish National Jazz Orchestra, amongst many others. Tim Giles is a BBC award-winning drummer, who's worked with Stan Sulzmann, Iain Ballamy, and Jamie Callum.
26th October 2016
Andre Canniere

£7
With a band drawn from the best of the London jazz scene, US trumpeter Andre Canniere returns with Tori Freestone (tenor sax), John Turville (piano), Michael Janisch (bass), Andrew Bain (drums), and guest vocalist Brigitte Behara. Their new album 'The Darkening Blue' (Whirlwind Recordings) is inspired by the poems of Rainer Maria Rilke and Charles Bukowski. Contemporary jazz with a slight twist, ranging from the haunting and mystical to something altogether more bold and urgent. "The American-born trumpeter has emerged as one of the most compelling artists on the current London jazz scene" - The Scotsman
2nd November 2016
Fini Bearman

£7
Celebrating the release of her third studio album 'Burn the Boat' (Two Rivers Records), Fini Bearman visits us in advance of a London Jazz Festival performance. An expressive singer with a beautiful voice, and influences including Joni Mitchell, Björk, Radiohead, Esperanza Spalding, mixing jazz with folk and alt-pop. Honest, idiosyncratic and emotionally intense music, with a line-up of some of the UK's finest young talent: Matt Robinson (Snowpoet, Corrie Dick) on piano, Nick Costly-White (Snowpoet) on guitar, Conor Chaplin (Laura Jurd/Dinosaur, Martin Speake, Bobo Stenson) on bass and Dave Hamblett (Snowpoet, Kenny Wheeler, Ivo Neame) on drums.
Page last updated: 21st August 2016