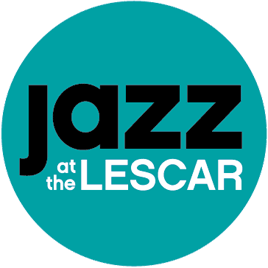 Every Wednesday The Lescar is home to the best weekly jazz night in Sheffield. With a diverse range of music from local, regional and national touring artists who showcase the depth and vibrancy of the UK Jazz scene, it's an all year round jazz festival on your doorstep!
Music starts at 8.45 pm, doors 8.15 pm.
Advance tickets are available for all Jazz at the Lescar gigs from Porter Brook Gallery (Sheffield Music Shop), Hickmott Road, (open 10am - 5pm, Tuesday - Saturday).

Jez Matthews
Email: lescarjazz@gmail.com
Telephone: 0774 020 1939

The Lescar Hotel
Sharrowvale Road
Sheffield
S11 8ZF (map)
www.thelescarhuntersbar.co.uk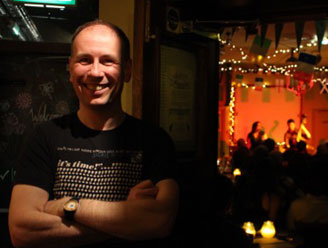 Sheffield Jazz
You can also catch some great jazz at Sheffield Jazz, with two seasons running annually throughout the Spring and Autumn at three venues: Crookes Social Club on Mulehouse Road, the Auditorium at Sheffield University Students Union on Western Bank, and the Crucible Theatre Studio.
www.sheffieldjazz.org.uk







15th August 2018
Jim Bashford Quartet

£8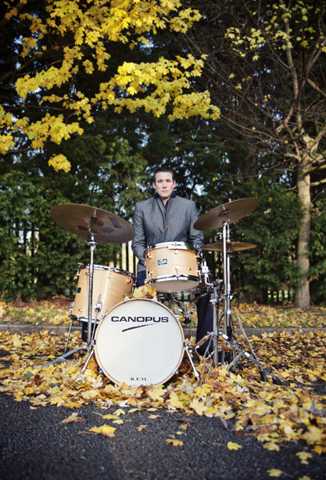 Led by a powerfully expressive drummer, Jim Bashford, (Drew Gress, Chris Bowden, Omar, Soweto Kinch), this incredible quartet features Percy Pursglove (trumpet), Trish Clowes (tenor sax) and Aram Bahmaie (bass).

Trish Clowes is a BBC New Generation Artist, and has firmly established herself at the forefront of the UK jazz scene with two wonderful albums in recent years.

Percy Pursglove has spent much time in New York and Europe, not least performing with the Duke Ellington Orchestra at Birdland, as well as performing and recording with the Claudia Quintet, Bill Frisell, Paul Dunmall, Jakob Bro, Ben Monder, Django Bates, and Dave Holland.

Free flowing, beautiful music, unmissable.

Visit: jimbashford.co.uk
22nd August 2018
Deep Tide Quartet

£8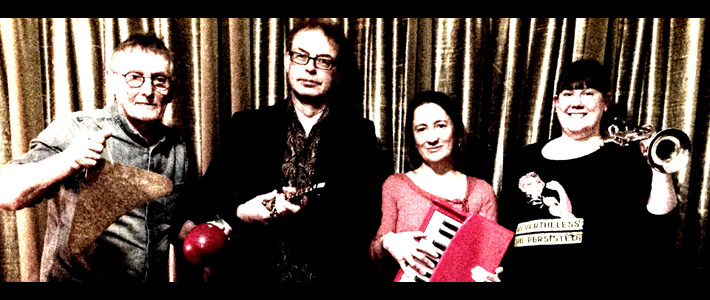 Four open-minded musicians at the forefront of the UK jazz and improvised music scenes; Martin Archer (saxophones), Kim Macari (trumpet), Laura Cole (piano) and Walt Shaw (percussion and live electronics).

Deep Tide Quartet's album 'See One. Do One. Teach One' has rightly received great reviews. They're an exceptional quartet who's music is based around thoughtful open-ended jazz improvisation, full of interaction and exploratory yet melodic playing. Listening and space are at the heart of this music, drawing you into the musical landscape of four unique improvisers.
29th August 2018
Matthew Read Trio

£7
A welcome return for a great London-based trio comprising Benedict Wood (guitar), Arthur Newell (drums), Matthew Read (double bass).

They're touring with their second album 'Anecdotes Vol. 2', influenced by folk, country, hip hop, dance music, spirituals, improvised music, and European and American church musics. Their music is approachable and melodic, full of inviting grooves and a strong sense of narrative.

'Proof indeed that the British Jazz scene at the moment is in incredible form' - Chris Philips, Jazz FM

Visit: www.matthewreadbass.co.uk/trio
5th September 2018
Nick Costley-White Quartet

£8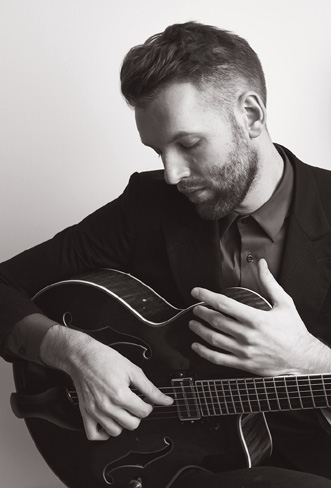 Led by guitarist Nick Costley-White (with us previously with Fini Bearman, as well as performing with likes of Martin Speake, Jeff Williams, and composer John Warren) this quartet features four of the most in-demand musicians on the UK jazz scene, touring an excellent new album 'Detour Ahead'.

Their music is rooted in the jazz tradition, bringing a fresh, contemporary energy to interpretations of classic jazz tunes mixed with their own compositions.

Alongside Nick are Matt Robinson (piano), Conor Chaplin (double bass), Dave Hamblett (drums).

Their combined playing credits include Ivo Neame, Norma Winstone, Corrie Dick, Dinosaur, George Garzone, Bobo Stenson, Martin Speake, Alice Zawadzki, Seamus Blake and many others.

Visit: nickcostleywhite.com
Friday 7th & Saturday 8th September 2018 at Hop Hideout
Elt (Kit Downes, Tom Challenger and Ingebjørg Loe Bjørnstad)

£12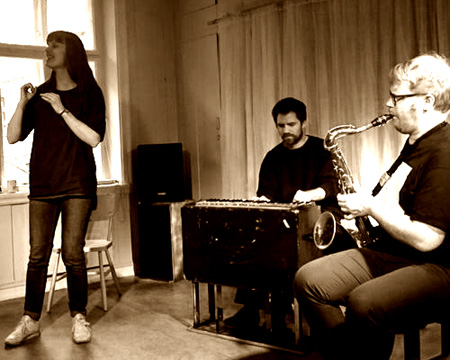 A beer shop residency! After a magical sellout gig a couple of years ago, we're absolutely delighted to welcome back Mercury-nominated ECM solo artist Kit Downes (harmonium), with his long term musical companion, brilliantly innovative sax player Tom Challenger (tenor sax), this time joined by Norwegian vocalist Ingebjørg Loe Bjørnstad (vocals), in the intimate and wonderful surroundings of the Hop Hideout beer shop (next door to The Broadfield).

Kit and Tom's duo ensemble Vyamanikal has resulted in three unique and very personal albums, and a recording on ECM. Whilst touring Europe they met Ingebjørg in Oslo and found an instant connection, not least in mutual tastes for musical abstraction and pacing. Ingebjørg takes apart the sound of her own language, her home dialect, and then transforms it into a unique and magical sequence of sounds that blend seamlessly with the textures of the harmonium and saxophone, creating songs that sound both ancient and modern at the same time.

You will never get closer than this to three incredible musicians at the forefront of European music, and with just 40 tickets available (20 each night), you'll need to buy early! Come down and hear some of the most beautiful contemporary music being made in Europe, on your doorstep, and of course sample some of Hop Hideout's equally wonderful selection of beers.
12th September 2018
Johnny Mansfield's Elftet

£9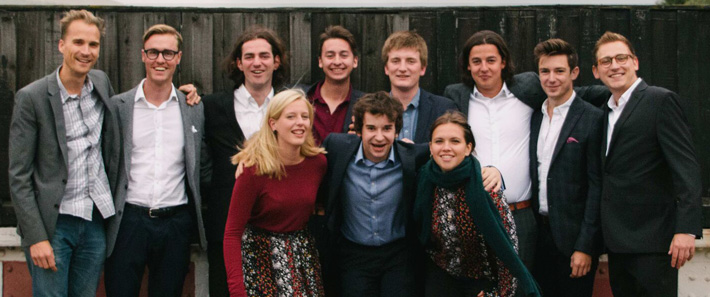 Winner of this year's Kenny Wheeler Jazz Prize, London-based vibes player and composer Johnny Mansfield has been making waves on the UK jazz scene, not least in the much talked about Jam Experiment. This line-up brings together no less than 11 incredible musicians to present his own compositions and arrangements, with music that vibrates with positive energy, and a whole range of textures and emotions.

Featuring Ella Hohnen Ford - vocals and flute, James Davison - trumpet and flugelhorn, Tom Smith - alto, tenor sax and flute, George Millard - tenor sax and bass clarinet, Rory Ingham - trombone, Dom Ingham - violin, Laura Armstrong - cello, Oliver Mason - guitar, Jonny Mansfield - vibraphone and compositions, Will Harris - bass, Boz Martin-Jones - drums.

Visit: www.jonnymansfield.com/bands-1/
19th September 2018
Robert Mitchell's Epiphany3

£8
We're proud to welcome one of the UK's most foremost pianists and composers, and a musical innovator over 25 years, Robert Mitchell, with his trio, featuring Tom Mason (bass) and Saleem Raman (drums).

Winner of BBC Jazz Awards, a British Jazz Composer award in 2017, and Gilles Peterson's Worldwide award for best jazz album, the music on Robert's latest 'Epiphany' EP touches on a more meditative mood, even where the pieces are more upbeat. It's based on his own poem of the same name that touches on 'those rare, but more direct connections to the infinite'. Rhythmic and virtuosic, his music switches seamlessly from m-base, funk to latin to free form, with influences from the beat poets and hip hop, and exciting, flowing melodies always there.

This trio's combined playing credits include an incredible list of stars, Robert having played with the likes of Jhelisa Anderson, Steve Coleman, Greg Osby, and Daymé Arocena. Tom Mason has appeared with Questlove, Lizz Wright, Mark Ronson, Gwilym Simcock and Ghostpoet. Saleem Raman on drums has played with David Gilmore, Kaidi Taitham, Femi Temowo, and Martin Taylor. Don't miss this!

'Absolutely top quality jazz from one of the world's finest.' - Gilles Peterson
26th September 2018
Miriam Ast and Victor Gutierrez + special guest TBC

£8
A really special and unique evening of intimate vocal/piano jazz. We're delighted to welcome German singer Miriam Ast and Spanish pianist Victor Gutierrez. Winner of the best vocal ensemble prize at the International Jazz Competition in Bucharest in 2017, and with a brand new album 'Secret Songs' (which featured UK jazz legend Stan Sulzmann), their music centres around an intense musical dialogue and an approach to their own material, (and also some very special arrangements of jazz standards) that is both conversational and virtuosic.

Wonderful rich melodies and harmony, improvised story-telling with real emotional intensity.
3rd October 2018
DOUBLE BILL: Samantha Wright Quintet / Bela Horvath Trio

£9
The very first gig in a nationwide touring scheme promoting the very best in new talent emerging from the UK jazz scene. A really exciting double bill featuring two wonderful bands full of rising stars originating from the Birmingham and Leeds jazz scenes.

Germany-based clarinetist Sam Wright leads a quintet originally formed in Birmingham, and featuring Alicia Gardener-Trejo (bass clarinet/baritone sax) who was with us for that amazing gig last October with her own large ensemble. Sam is a passionate advocate of the the clarinet in jazz and her music truly reflects this; its an unusual two clarinet front-line, concise, focused, and with a lovely swinging approach. Alongside Sam and Alicia, the quintet also features Jonas Oppermann (piano), Tilman Oberbeck (bass) and Jan-Phillip Meyer(drums).

Hungarian pianist Bela Horvath formed his trio in Leeds, with Jack Garside (double bass), Luke D'Auleriou (drums); Bela's piano-playing is virtuosic, and the three musicians together draw strongly on the jazz piano trio tradition exemplified by the likes of Keith Jarrett; poised, interactive, contemporary, melodic and adventurous.

Both bands are startling in their musical maturity, and its a real privilege to be able to showcase them together on the same night. We're immensely grateful to Arts Council England, Leeds College of Music, and Royal Birmingham Conservatoire, and the Jazz Promotion Network for their help in enabling this gig to happen.

Watch out for a further double bill later in October!
Also confirmed for later in the year:

10th October 2018 Sam Rapley
17th October 2018 Land of If
24th October 2018 Josh Schofield Quartet + Morpher Double Bill
31st October 2018 Olie Brice Quintet
7th November 2018 Treppenwitz
14th November 2018 Lorraine Baker
21th November 2018 Eirik Svela Group
28th November 2018 Bad Brew + Skeltr Double Bill

Page last updated: 6th August 2018