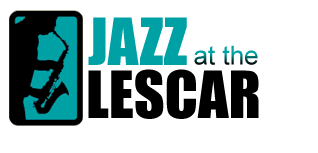 Every Wednesday The Lescar is home to the best weekly jazz night in Sheffield. With a diverse range of music from local, regional and national touring artists who showcase the depth and vibrancy of the UK Jazz scene, it's an all year round jazz festival on your doorstep!
Entry £5 (unless otherwise stated). Music starts at 9pm, doors 8.30pm.
Advance tickets are available for all Jazz at the Lescar gigs from Porter Brook Gallery (Sheffield Music Shop), Hickmott Road, (open 10am - 5pm, Tuesday - Saturday).

Jez Matthews
Email: lescarjazz@gmail.com
Telephone: 0774 020 1939

The Lescar Hotel
Sharrowvale Road
Sheffield
S11 8ZF (map)
www.thelescarhuntersbar.co.uk







August 20th Plinio Dourado's Segments
Sheffield-based drummer/percussionist brings a great trio featuring (from Montpellier) Marcus Borges (bass) and Alain Felice (piano), and a special guest. Expect jazz infused by the vibrant spirit of Brazilian music.
August 27th Jamie Taylor's Outside Line
With a great new album out last year, it's a pleasure to welcome back Jamie Taylor, recognised as one of the most respected jazz guitarists around, here with his quartet featuring young tenor sax star Matt Anderson and top class rhythm section of Garry Jackson (bass) and Dave Walsh (drums). They'll be playing a mix of original material and their own takes on well chosen standard tunes.
'Restlessly inquisitive guitar...it's clever, engaging stuff.' Jazzwise
September 3rd Dominic J Marshall
Rising star Amsterdam-based pianist Dominic J Marshall drops in playing material from his latest album 'Spirit Speech' released in Spring 2014. His trio features Sam Vicary (bass) and Sam Gardner (drums), and influences ranging from Bud Powell and Bill Evans to J Dilla, mixing elements of hip-hop and electronica with the classic interactive and intimate sound of a jazz piano trio.
'…brings together a great heritage of the past, but also
something very fresh and new.' Jamie Cullum
September 10th Juliet Kelly (Supported by Arts Council England) £6
Juliet Kelly is one of the jazz scene's best kept secrets, with a wonderful rich voice and great storytelling ability. She'll be presenting a range of eclectic songs inspired by some of her favourite novels, including "Middlemarch", "The Colour Purple" and "White Teeth", and joined by a first class band featuring Nick Ramm - piano (Cinematic Orchestra, Hello Skinny), Oli Hayhurst - double bass (Pharoah Sanders, Jacqui Dankworth, Gilad Atzmon) and Eddie Hick - drums (Gilad Atzmon, Mark Ronson).
'One of the UK's finest female jazz stars.' Jazzwise
September 17th Blue Eyed Hawk (Lescar PRS New Music Series)
With a debut album released on Edition records in Autumn 2014, this quartet features some of the brightest young talent in the country, straight from their album launch in London. Their music is emotive, improvisatory, spacious, melodic, and richly textured, taking in influences from rock, jazz, minimalism and electronica. With Lauren Kinsella (voice), Laura Jurd (trumpet), Alex Roth (guitar, effects), Corrie DIck (drums).
'So brilliant. Everyone in the room was spellbound.' BBC RADIO 3
September 24th DORS (An Outer Circle promotion)
We're excited to have joined forces with a bunch of other jazz promoters to create a touring scheme called Outer Circle, making it possible to bring you this brilliant Anglo-French band, DORS, featuring two thirds of the critically-acclaimed, cutting edge trioVD (Christophe de Bezenac - alto saxophone, electronics and Chris Sharkey - guitar, electronics) combined with Donkey Monkey (Eve Risser - piano, electronics and Yuko Oshima - drums, electronics). Powerful sound collisions and moments of spine-tingling stillness combine with influences from gamelan music, musique concrète, experimental rock and electronica.
October 1st C Bop
Guitarist Chris Walker brings his energetic, funky and virtuoso C Bop band, featuring Piero Tucci (keyboard, tenor sax), Alex Henderson (bass), Phil Johnson (drums). Always a great gig, you can expect to hear a combination of influences, from Wes Montgomery and George Benson to Pat Metheny, Mike Stern, Michael Brecker and John Scofield. Between them these guys have played alongside the likes of John Etheridge, Alan Barnes, Jim Hall and Barbara Thompson. Arrive early!
October 8th Katie Patterson's All-Sorts
Originally from Canada, based in Leeds, the wonderfully exuberant drummer Katie Patterson (Jazz Yorkshire Young Musician of the Year 2012) brings her equally talented and hugely entertaining band, featuring some of the North's best young musicians, with Russ Henderson (sax), Oli Cadman (keys), Jim Faulkner (guitar), Peter Gavin (bass). A hit wherever they play, with plenty of grooves and soulful ballads, and a constantly evolving sound.
October 15th Gogo Penguin £7
We're immensely excited to have Gogo Penguin back for a rare and intimate performance in the Lescar back room. This exhilerating piano trio owe as much to electronica and classical music as they do to jazz, with influences from Aphex Twin to Brian Eno, Debussy, Shostakovich, and Massive Attack to EST. Their debut album was nominated for best jazz album at Gilles Peterson's World Wide Awards, and 'V2.0' this year's thrilling follow-up further developed their sound. More than just rising stars, they've packed out festival gigs and major venues. Featuring pianist Chris Illingworth, bassist Nick Blacka and drummer Rob Turner. Arrive early for this one. Tickets available in advance!
October 22nd Zoë Gilby (in association with Jazz North)
A classy singer and songwriter making increasing waves on the UK jazz scene, Zoë Gilby brings an accomplished band featuring her double bass playing husband Andy Champion, guitarist Mark Williams and drummer Richard Brown. With influences from the Great American Songbook, Nancy Wilson, Carmen MacRae to David Frishberg, Pink Floyd and Kate Bush.
'Deserves wider recognition and a major record deal.
An excellent CD.' Courtney Pine
October 29th Samadhi
Samadhi is a project led by drummer Sam Gardner, playing an accessible and exciting mix of jazz infused with the rhythms of Indian classical music, and the precision grooves and rich harmony of hip-hop, drawing on meditation and spiritual influences to complete their sound. And what a great line-up… award-winning sax player Krzysztof Urbanski on sax (hailed by a panel including Herbie Hancock and Wayne Shorter at the Thelonious Monk Institute in Los Angeles as 'one of the best in his generation'), plus Dominic J Marshall: Piano, Sam Vicary: Bass, Sam Bell: Percussion, Sam Gardner: Drums.
November 5th EYESHUTIGHT
Another great piano trio, promoting their third album, Eyeshutight feature Johnny Tomlinson (Bonobo, East Park Reggae Collective, IDST) on piano, Kristoffer Wright (The Tommy Evans Orchestra, The Threads) on drums, and Paul Baxter (The Give A Little Jazz Orchestra, Chamber) on bass. A melodic, rhythmic and propulsive trio, they're influenced by EST, Avishai Cohen and Keith Jarrett, and have featured on Gilles Peterson's BBC 6 Music show, performed at the Manchester Jazz Festival as well as Radio 3's 'In Tune', and appeared as finalists in the European Jazz Contest.
November 12th Dakhla
A unique quartet from Bristol, featuring musicans who've played with Get The Blessing, Pee Wee Ellis, Howard Alden, and Massive Attack. Dakhla play music that's full of vitality, blending evocative harmonies with intricate rhythms and a big funky sound. They've featured at the Manchester Jazz Festival, selected for the BBC Introducing stage by Gilles Peterson and Jez Nelson, as well appearing on Jazz on 3, and Late Junction, and picking up a load of glowing reviews on the way. Featuring four horn-players and a drummer - Charlotte Ostafew - Baritone sax, Sophie Stockham - Alto Sax, Pete Judge (Get The Blessing) - Trumpet and Matt Brown - Drums.
Page last updated: August 17th 2014